Wynn
Since it was opened in 2005, Wynn Las Vegas has earned a reputation as one of the leading casino resort complexes in the city. Operated by Steve Wynn, the man who also built the famous Bellagio and the Mirage, the Wynn is designed to offer a sumptuous playing setting that feels more like a mansion than a casino. The luxury décor and immaculate gardens all contribute to the atmosphere of wealth and opulence.
The Wynn Las Vegas draws a wide range of visitors who want to experience the unique surroundings. As well as high limit and low limit gamblers, and is one of the most popular spots in the city for both international and local guests. (3131 S Las Vegas Blvd, Las Vegas, NV 89109, United States)
Estimated reading time: 4 minutes.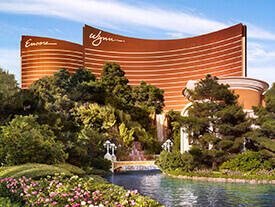 Location
The Wynn Las Vegas is based on the northern side of Las Vegas Blvd across from the Palazzo. It is traditionally seen as the spot where the centre of the city gives way to north Las Vegas. It isn't as conveniently accessible as some of the casinos in Vegas. It offers such a wide array of amenities, that many visitors choose to remain on the complex throughout their whole stay. There are ample self-parking areas, and there is a valet parking option via Sands Avenue, and high rollers may be able to get their parking validated.
Casino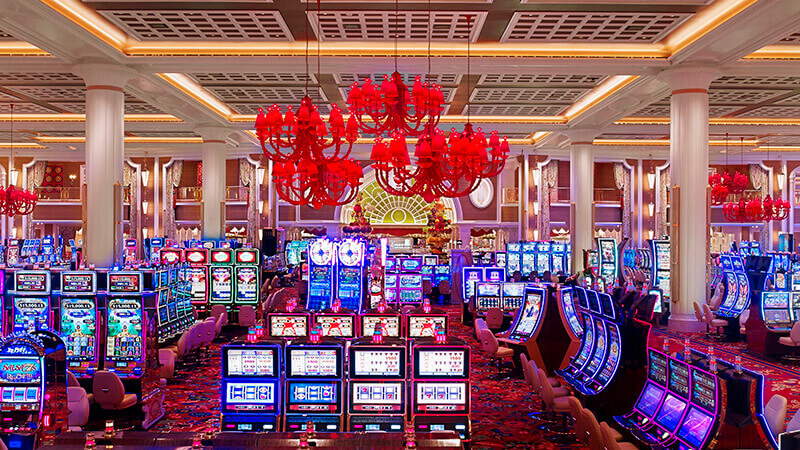 The gaming floor at the Wynn Las Vegas is an impressive 189,000 square feet and features numerous gaming pits. The layout is wide and spacious, making it easy to navigate.
There are well over 2,000 slots games to choose from, ranging from penny slots right up to $100 machines and higher. Some of the most popular games on offer include Monopoly, Lock It Link and The Walking Dead. There is a great choice of progressive jackpots offering huge payouts. For high-limit players, there is a dedicated room that features a mix of new slots titles and traditional games like Cleopatra and Wheel of Fortune.
The Wynn Las Vegas scores particularly highly for its range of table games. There is a dedicated Baccarat section, numerous Craps and Roulette tables – including both double-zero and triple-zero variants. This along with speciality games such as Casino War, Three Card Poker, Let It Ride, and Big Wheel. For High Limit table games players there is a secluded room that offers a range of games including $100 minimum Roulette and Blackjack games.
Accommodation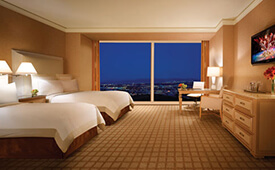 The hotel at the Wynn Las Vegas is one of the best in the city, a 5-star facility with more than 2,700 rooms available. The larger rooms offer stunning views over Las Vegas, and those who join the Wynn Insider rewards program can enjoy significant discounts.
The suites at the hotel are enormous! Beginning at over 900 square feet in size, and for those prepared to pay a little extra, there are luxurious villas. They are on the same scale as large houses, though many of these are reserved for VIPs.
Leisure and Entertainment
The Wynn Las Vegas Spa and Fitness Center was the first spa in the city to be awarded a Forbes Travel Guide Five Star certification. It's a massive facility that provides pretty much every type of health and body treatment you can imagine from massages to facials. Guests can also enjoy a high tech fitness center offering the full complement of training equipment.
Dining and Drinking
The dining options at the Wynn Las Vegas are second to none and range from cafes and buffets to eight choices of fine dining venue. Including the SW Steakhouse and the Mizumi, which is set in beautiful scenery. You will also find plenty of 24 hour bars around the complex. Here you can unwind after a hard day's gaming. The complex boasts two successful and popular nightclubs: XS, which has been one of the highest rated nightspots in the US for several years. And Intrigue, which is smaller, but offers stunning views of the waterfall and the regular pyrotechnic shows.
Conclusion
In a city that has been built on a grand scale, the Wynn Las Vegas is one venue that stands out from the rest, for its scale and opulence. With an incredible range of gaming options, first class accommodation and dining, and a relaxed, tranquil setting, it is a unique and must-see landmark of the Las Vegas gaming business.