Know Your Customer Regulations
Know Your Customer (KYC) regulations are something that is in place at a lot of different online casinos. This is the case for a number of different online casino sites that are available for South African players. They are essentially a way for an online casino to check to make sure that players are who they say they are when they sign up. It can sometimes put players off when signing up, however there are a lot of different positives in place when KYC regulations are in operation.
Estimated reading time: 5 minutes.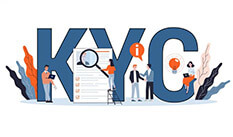 What to Expect from KYC Regulations
The first thing that you should expect if an online casino has KYC regulations in place is to provide proof of who you are. This will vary depending on the site that you are playing at. Some sites will have limited KYC in place but some will be much more thorough.
If you're playing at a site with limited KYC in place it means that you will most likely only have to provide your bank information in order to sign up. What this does is ensure that you are legally able to play at the site. This can be achieved in two different ways from bank details.
The first is by cross checking the age of the user. The bank will have age details in file so the online casino is able to double check whether the player is old enough to use the site.
Secondly, if the site has location restrictions in place then the bank will also be able to check this. While the IP address of the user does allow people to be checked for location, a VPN means people can get around this. A valid bank account allows for this to be checked more reliably.
If a site has much more stringent KYC checks then it will require a little bit more from the user. This means that the checks that are carried out are a lot more detailed and players have to provide more proof of who they are.
The most common form of ID that players have to provide is a driving licence. However it can also be any other form of ID that has a photo in place. Players will normally have to provide a scan or photo of this ID in order to prove who they are.
It means that the original copy doesn't have to be sent off. This will obviously make players much more willing to send the information as there is no chance of their ID being lost in the post.
Reasons for KYC Regulations
There are a lot of different reasons why sites have KYC regulations in place. The first reason is to make sure that sites are conforming with local laws. If there are age laws or location laws in place, KYC regulations ensure that sites don't have to worry about players trying to get around the rules that are in place. By requiring players to prove who they are it means that the site doesn't have to worry about the player breaking those laws and then the site being fined.
It also covers different money laundering laws. If a site allows players to sign up without proving who they are then they could launder money at the site. This means that unregistered income cannot be washed through the site and makes sure that the site conforms to local regulation.
It's important to note that when providing ID to sites for KYC, the site has to keep the information encrypted and it is therefore a safe process.
Positives to KYC Regulations
One of the main positives to KYC is that it gives players trust in the site that they are signing up to. This is because the sire will have to be regulated in order to offer these regulations. A regulated site is often more trustworthy for players. Although it's not always the case, if a site isn't regulated then it can sometimes carry out actions that don't have the best interests of the player at heart. If a site had KYC in place then it means that it's likely regulated. This means that there will be rules the site has to follow in order to keep its status as a regulated site.
This provides players with more safety when signing up. Part of this is due to the higher levels of security that regulated sites have to have in place. So, players who use these sites can feel a lot more comfortable, especially when providing personal data to the site.
Negatives to KYC Regulation
In terms of negatives, there aren't a lot in place. The main one is that it can be quite time consuming to go through the process. Most sites will have them completed within 24 hours. However, there are also some that can take over a week to get the process completed.
It's also a negative for anyone who wants to keep their personal information private. For example, if you want to play at an online casino without your bank knowing. This doesn't always mean that there is something underhand going on, some people may want to get a mortgage and therefore don't want any gambling to show up on bank statements.
Should you Play at a Site with KYC?
This all depends on what you want from an online casino. If you want to keep your details private then a KYC site is probably not the choice for you. However, if you want to play at a site with more safety and security in place then a KYC site might be right for you.
Look over the different options by checking online casino reviews before making your choice.