Know Your Rights
Knowing your rights is one of the most important things you need to think about when signing up to and playing at an online casino. Many players think that they have no rights within South Africa due to the lack of an overall regulator. However, this isn't the case. This belief is something that some sites take advantage of, so it is important to be aware of what your rights are.
Estimated reading time: 5 minutes.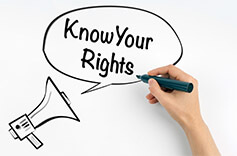 Playing at Different Sites within South Africa
There are a lot of different online casinos available in South Africa. This means that the choice that's offered to players is extremely wide and varied. However, there are generally two different types of sites that are available to players. Regulated sites and unregulated sites.
Regulated sites are sites that have a regulatory licence in place. This means that players have certain protections in place in relation to their rights.
Unregulated sites are sites that don't have a regulatory licence. It means that there are no legal protections in place for players.
This doesn't mean that all unregulated sites are unsafe to play at, it just means that players have to do their research before choosing to play there.
Rights at a Regulated Site
Lots of players still aren't fully aware of the different rights that are available to them at a regulated site. It means that sometimes they don't get treated as well as they should have. However, there are actually a number of different rights that players have when playing at regulated sites.
The first is that they have the ability to get in touch with the regulator if they feel they have been treated unfairly. So, if the casino has removed funds from a player then they can get in touch with the regulator to make a complaint. However, it is important to understand that this doesn't guarantee that the funds will be returned. If players have gone against the terms and conditions then the removal of funds is a fair decision. That is why players have to look through the terms in detail when signing up in order to make sure that this doesn't happen.
Secondly, players have the right to keep their details protected. If the site isn't protecting these details then players have every right to complain to the regulator. While it doesn't mean that the player will get any compensation from this, it does mean that their details will be protected. This is an important thing to have in place as player details have to be protected. If they're not fully protected then it means that players can be the victim of identity fraud.
Unregulated Sites
In terms of rights players don't have a huge amount available to them. Legally the site can do essentially whatever it wants. This is because it operates offshore and doesn't have to abide by any of the legal requirements. However, it doesn't mean that all players will be treated unfairly by these sites.
Some unregulated sites are this way because they use crypto as a payment method and have provably fair games. Not all regulators will allow these sites to operate which means they have to behave without a licence. What provably fair games mean is that whether the game is behaving in a statistically fair manner can be proven. So, if the site is a provably fair site it does mean that players have some rights. They're able to prove if a game is fair or not. If it's not then the site will have to amend the game.
In order to protect themselves it's best for players to check reviews before they play. This will make it much easier to find trustworthy sites to play at. Because reviews cover all of the important information, how trustworthy the site is will feature heavily. This won't increase the overall rights that players have at these sites, but it will make it much easier to find a site that behaves fairly.
Responsible Gambling
This is something that many players aren't fully aware of. Responsible gaming is the process that online casinos have to carry out in order to protect players. The most common aspect of this is the ability to lock your account if you feel you have a problem. By locking your account it will stop you from being able to log in. You'll then be able to avoid the issues that you are having with gambling. Most sites will offer these services but it depends on the site as to how easy they are to access.
If the site doesn't offer these services and they are regulated, then you may have some rights in relation to your funds. If you have a gambling problem and the site takes advantage of your problem then you may also be able to get hold of lost funds. This is often a difficult process as the site will have to be taken to court first.
It's very rare that sites don't offer responsible gambling features and even rarer for them to ignore the features that have been put in place. So, as long as you choose a high quality online casino this isn't an issue you'll be likely to come across. The best way to find these sites is to look through casino reviews in order to find the best possible site.