Online casino cheating
Online casino gambling has taken off in South Africa in a big way in recent years. Millions of South Africans can now enjoy playing their favourite casino games at a range of different casinos. With the advances in mobile technology and mobile uptake in recent years, more and more of us are playing on the go, at our convenience.
But while the internet revolution has brought casino gaming into the twenty-first century, some things have not changed. As long as there have been casino games, there have been people trying to cheat, and that remains the case with online casinos.
You may come across people online who will claim that it is possible for players to cheat online casinos and win risk-free money. In reality, this is not the case. Some claim that it is possible to hack the software used in casino sites. This while others claim that clever use of bonus promotions and multiple identities will enable players to get away with criminal behaviour. Neither of these types of cheating will to work at a reputable South African online casino.
The truth is that simply by virtue of these casinos being online, it is harder for people to cheat. With no physical elements that can be manipulated and no human interaction, many of the methods that people have tried to use at land-based casinos are non-starters. But in case you are not convinced, here is a detailed guide to the pitfalls that await potential cheats.
Estimated reading time: 6 minutes.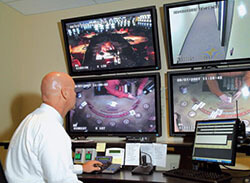 Multiple Sign-Ups
It is a common myth that new players are more likely to win at a casino. The theory is that online casinos are keen to get players to come back again and again, so will tilt the odds in favour of new players. This theory also leads to cheaters attempting to present themselves as new players repeatedly at the same casino. Unfortunately for them, the theory is completely incorrect and acting upon on it by using multiple identities at the same casino is likely to get you in trouble. As we will find out later on in this article.
The theory is incorrect because reputable South African casinos use Random Number Generators (RNGs) to produce the outcomes of all their online games. These RNGs are regularly tested by third party auditors, such as eCOGRA and TST. Indeed, if a casino holds a license with a reputable jurisdiction such as the UK Gambling Commission or the Malta Gaming Authority, regular fairness testing is a condition of that licence. Any attempt to manipulate the RNGs in their site's games would be obvious to auditors. No casino is going to risk losing their licence in such circumstances.
Technology
But what about those RNGs? Isn't it possible to hack into them so they will pay out in your favour? You will from time to time see people online asserting that this can be done. They may even attempt to sell you software or programs that they claim will help you to carry it out. Don't be tempted to fall for these scams. South African casinos employ some of the world's most sophisticated gaming technology. They are designed to be impervious to hacking or external manipulation of any kind. Whatever method you might dream up to attempt the hacking of a RNG, you can be sure that gaming technology developers thought of it first. He designed systems to keep their games safe. Attempting to hack an RNG is a waste of time.
Tracking
In fact, if you try to interfere with the operation of an RNG at a reputable South African casino, all you are likely to do is identify yourself as a cheat. That's because online casinos employ the latest tracking technology to monitor every action of every customer or visitor to their sites. Every click, transaction, or gaming session is tracked and analysed. So anyone attempting to cheat runs the risk of being caught. And hiding your identity is not a viable option for the online casino cheat, as the following section explains.
Identity
Although the internet revolution has sparked a boom in casino gaming, there are obvious risks associated with operating an online business, and identity theft and manipulation is one of the most prevalent. As the online casino gaming industry has evolved, the importance of protecting both players and casino operators from identity theft and fraud has risen high up the list of industry priorities. It is now a key part of any South African casino's operation.
In fact, the identity verification systems at online casinos are now the most sophisticated available. Anyone who signs up with an online site will appreciate this themselves. While normal online purchases at retail outlets may require you only to give basic information to prove your identity, online casinos demand a far higher standard. Many require you to provide copies of identification documents such as passports, driving licences and utility bills. Geolocation and biometric identification methods are also being introduced.
This isn't just a matter of online casino operators protecting themselves. Sites that hold licenses from the most respected jurisdictions are required by the terms of their license to operate extremely strict identity policies. Not just to crack down on cheats and frauds, but also to combat under-age gambling and to protect customers. These policies are regularly checked by licensing authorities and there have been some high profile examples of casino companies being hit with big fines for slight failings in this area.
So if you're thinking that it might be possible to cheat a South African online casino by using a false identity to register... you should definitely think again. Not only is your attempt to cheat likely to fail, you could also find yourself in serious legal trouble.
Conclusion
So can you cheat at an online casino in South Africa? The answer is a definite no. Whether you try to interfere with a site's software, engage in identity manipulation or try to sign up multiple times to obtain a supposed advantage. The sophisticated software and rigorous security policies of modern online casinos mean you will not only fail in your attempt, but are also likely to be caught. So why take the risk?
Casino gaming is a fun pastime, enjoyed by millions of South Africans every day. Spinning the reels on your favourite high-definition slot or playing a few games of Live Dealer Roulette is an entertaining diversion from the stresses and strains of daily life and attempting to gain a financial advantage by indulging in criminal behaviour is foolish. Besides, there are plenty of examples of players earning life-changing prizes at online casinos and none of them needed to cheat! So why not leave the cheating to the criminals and the foolish and enjoy the thrills of playing at your favourite South African casino.